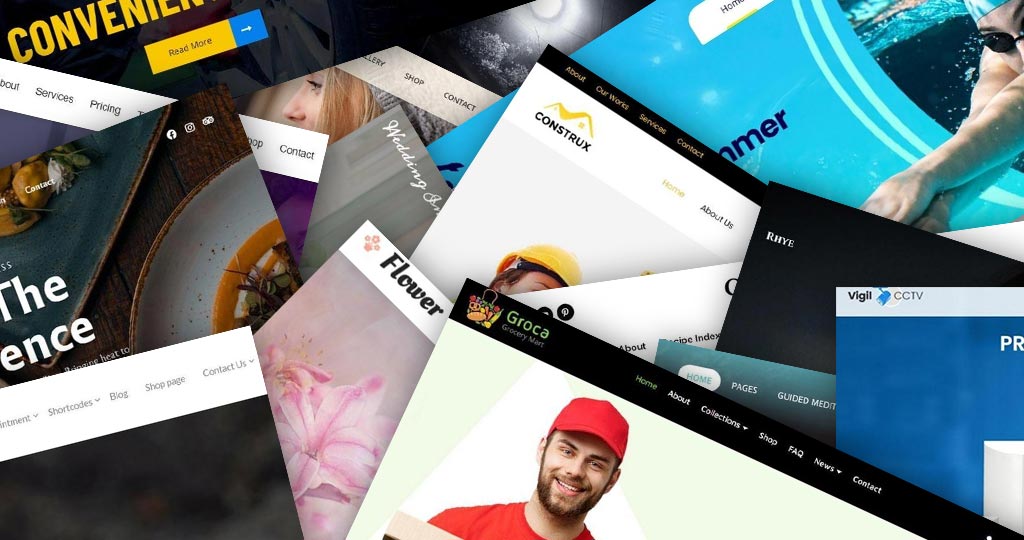 11 Jun

15 Best SEO Optimized WordPress Themes for Niche Websites

Now, you've decided to take your business online. You have a fairly good idea of what you want your website to look like, and that's great! However choosing WordPress platform has it's benefits, not just any WordPress theme will do for this great task. As a business owner, you should also be looking at ensuring your new website is well optimized for search engines.

A good-looking website is only one half of the job, a well-optimized website is the other half. What is good about a beautiful website is that it doesn't appear on search engines with solutions to the issues of your potential customer. You should buy the best WordPress themes that are well optimized for search and also look beautiful.

Here is the list of WordPress templates that are SEO optimized: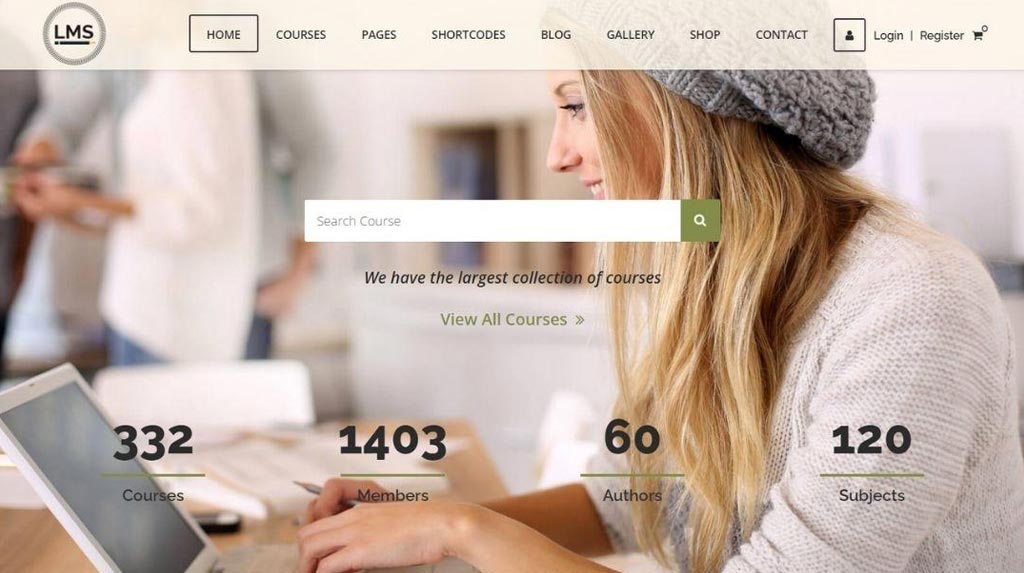 Learning management systems have never looked this good. The LMS theme is designed to cater to the needs of institutions or individuals providing educational services. The theme is secure and is trusted by a lot of tutors, online instructors, and even institutions, the template layout is crisp with simplicity at the center of its design.
Theme Features
Here are some of the features that make this theme a great choice for educators and students:
Quiz grading
Course analytics
Question bank
Seo optimized
Mobile friendly
Charge for courses
Easy content creation, etc.
Who Can Use This Theme
The theme can be used by online institutions, tutors, colleges, online instructor websites, universities, high schools, academic blog platforms, etc.
Why Choose This Theme
Asides from the fact that the theme was built to be SEO friendly, you can also create a WooCommerce content shop with this theme. So you can sell courses, materials, and instructional videos online with ease.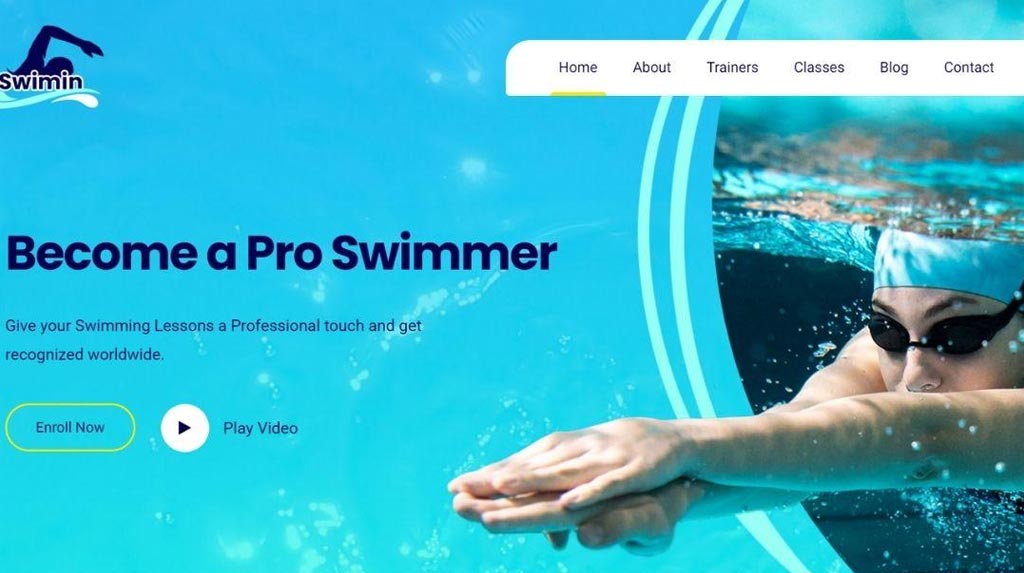 Enjoy the great visuals provided by this swimming theme. The colors, fonts, and features of this theme make it an ideal choice for swim clubs, schools, and instructors. The theme has a light design with a layout that allows you to display just enough information to your customers.
Theme Features
Revolution slider
Theme customizer
Multiple tabs
SEO optimized
Portfolio section
Blog section
Responsive templates
Who Can Use This Theme
The theme can be used by swimming trainers, swimming clubs, waterparks, swimming pools, swimming athletes, etc. The theme can serve multiple purposes like creating a portfolio for athletes, while also including a blog section for everything swimming.
Why Choose This Theme
The theme is WooCommerce integrated, so you get to set up an online shop with ease. It is also SEO optimized so your blog contents have a good chance at ranking high on search engines organically.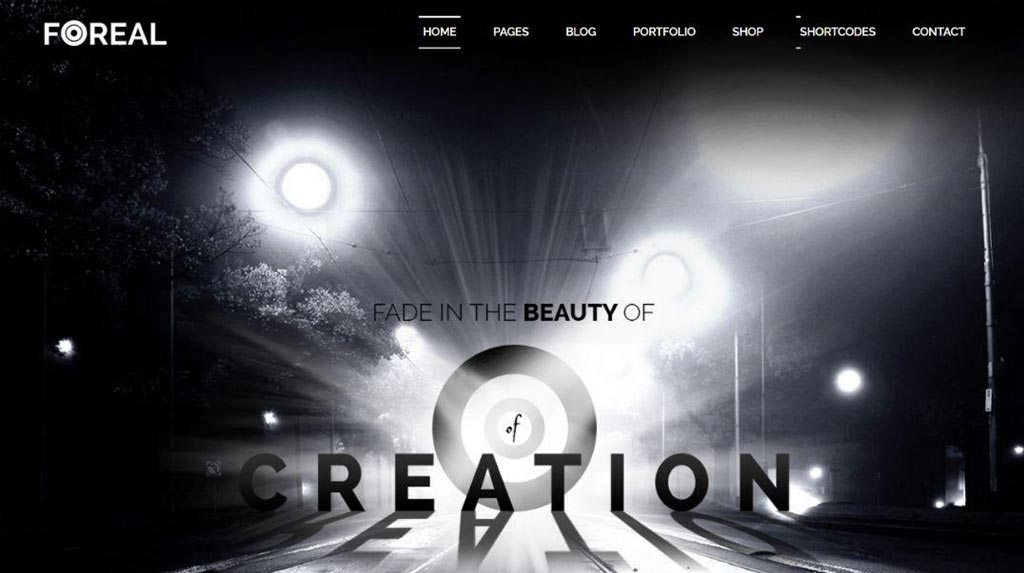 Foreal white and black monochrome theme is perfect if you're a minimalist. The neutral colors ensure that your audience focuses on exactly what you want them to. It is subtle yet elegant in the design and presentation of content.
Theme Features
The features that make this theme stand out are:
Unique blog single page design
Light and dark version
Load more ajax option for portfolio
Portfolio carousel in full width
Options to customize colors and fonts of most elements of the theme, etc.
Who Can Use This Theme
As mentioned earlier, this theme is ideal for the minimalist. It is suitable for producers, filmmakers, video production studios, film agencies, personal business owners, authors, etc.
Why Choose This Theme
The theme can be used to create personal, creative, and agency portfolios, it can also be used to publish online magazines, showcase photography work, and even personal blogs. The theme is clean, sophisticated, and simple in design.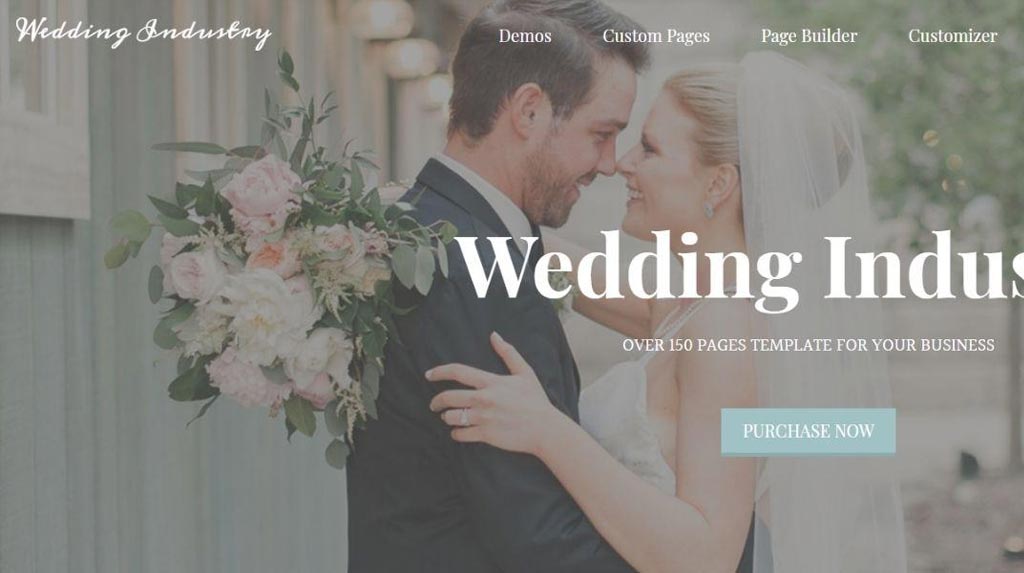 The wedding industry is a big one with a large audience reaching this target audience with a well-optimized website will do a lot for your business. The wedding industry theme has the right blend of pastel colors that are subtle and elegant at the same time.
Theme Features
Location management
RSVP form
Visual composer
Custom colors
Revolution slider
Gallery, etc.
Who Can Use This Theme
The theme has a nice blend of subtle colors and it can be used by wedding vendors, wedding dress shops, florists, wedding planners, etc. anyone with a wedding-related business can also make use of this theme.
Why Choose This Theme
The theme can be used to create party planners, RSVP lists, destination wedding blogs, and also display wedding pictures. The theme is simple to install and use, and it can be customized as per your business style.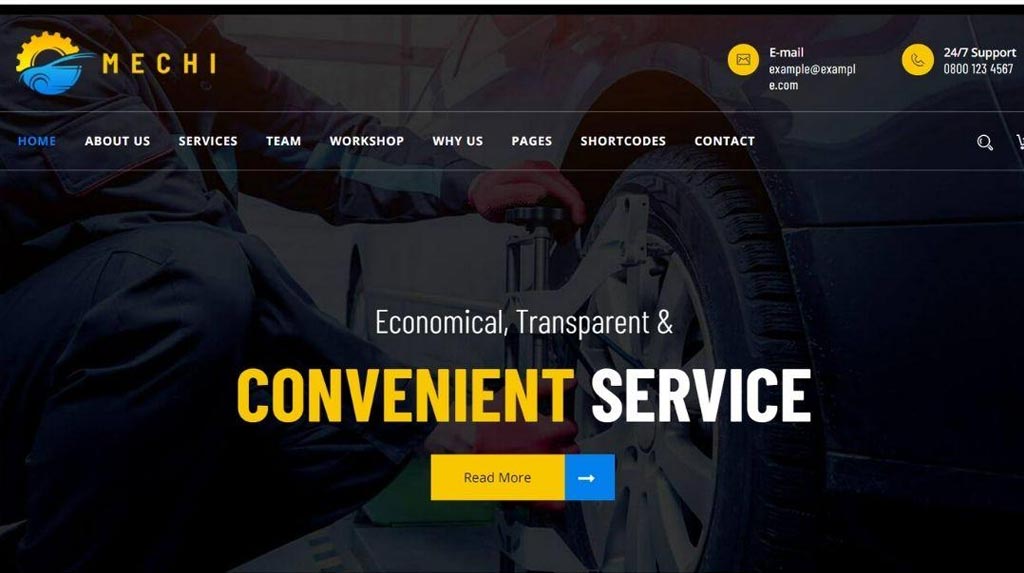 Auto business owners are not left out when it comes to having the ideal business WordPress themes. Mechi is that theme dedicated to auto businesses to showcase their skills and services in an orderly and clear manner.
Theme Features
Gallery
WooCommerec integrated
Online appointment booking
Kirki customizer
SEO friendly
Services with pricing tables, etc.
Who Can Use This Theme
The theme can be used for any auto-related business, but it is ideal for car dealers, auto painting and dealing workshops, car repair workshops, auto electrical workshops, carwash services, etc.
Why Choose This Theme
You can sell your products by creating a WooCommerce store or have people pay for services online as well. The theme has a unique layout that is not cramped and is responsive across all devices.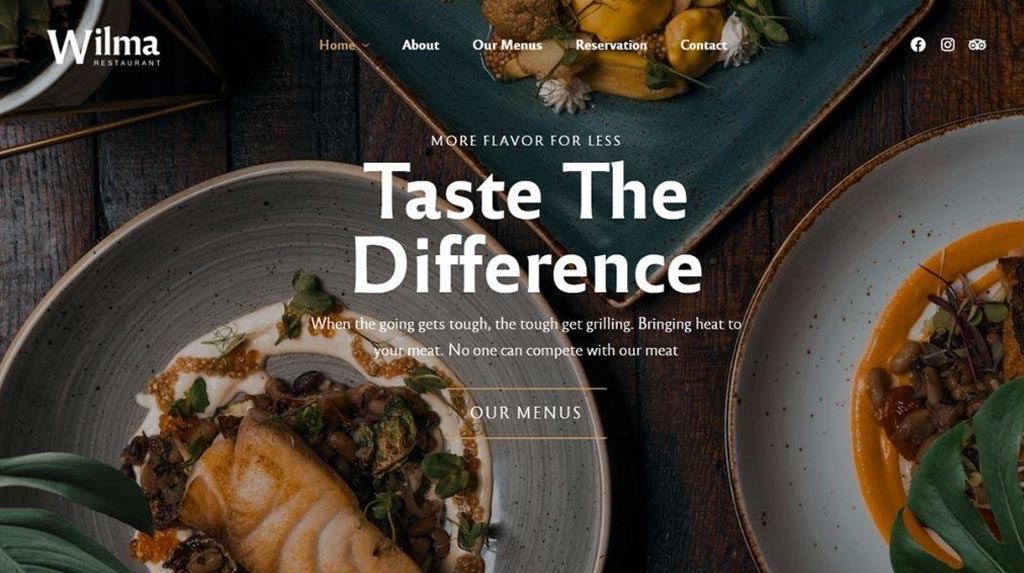 This modern Grand Restaurant WordPress theme is ideal for food-related businesses. It has layouts and colors that compliment pictures, menus, and blog post sections. The layout is responsive, neat, and easy to manage.
Theme Features
Reservation options
Food menu layout
WooCommerce integrated
6 blog templates
Live search
6 pre-defined demos, etc.
Who Can Use This Theme
The theme can be used by restaurants, cafes, chefs, food bloggers, etc. The theme has predefined styles for Asian food restaurants, modern cuisine, online cookbooks, etc.
Why Choose This Theme
The theme gives your food business a grand design and helps you reach the right audience. There are predefined demos that you can check out before installing the theme. The theme is responsive across all mobile devices and different types of browsers.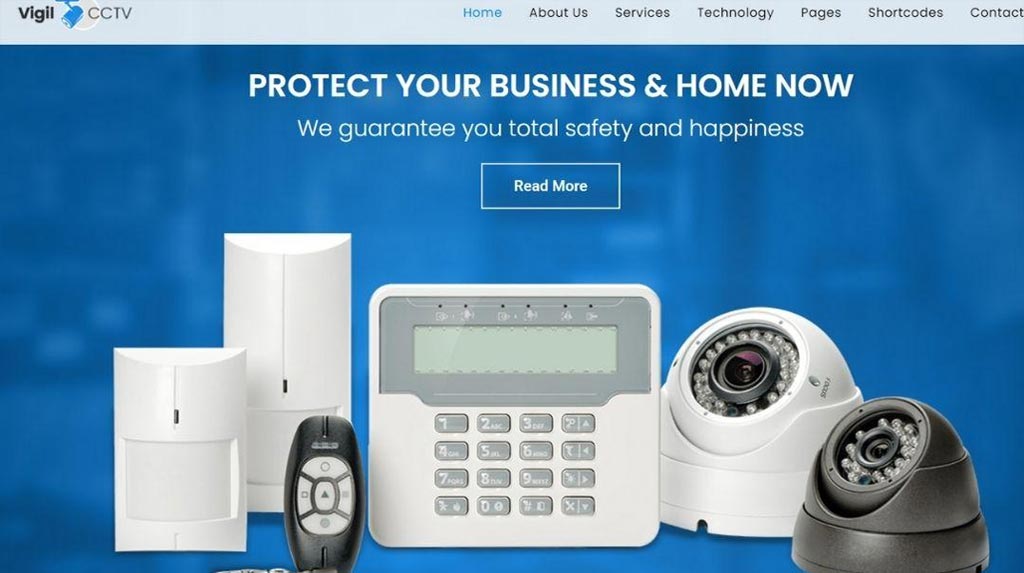 Vigil is a smart theme with auto-responsive layouts that are visually appealing. The theme was exclusively designed for security businesses and has the right templates to represent your business online.
Theme Features
Easy drag and drop builder
Kirki customizer
Contact forms
Layer slider
Premium plugins
WooCommerce integrated
Visual composer
Askimet antispam, etc.
Who Can Use This Theme
The Vigil theme is ideally suited for security firms, CCTV companies, security guard services, home security services, security installment services, security blogs, etc. any security-related business can also make use of the theme.
Why Choose This Theme
You can adequately display the products and services you offer to customers as a security-related business with this theme. It is easy to install and build up in minutes, and the premium plugins ensure you have all the necessary features unique to your business.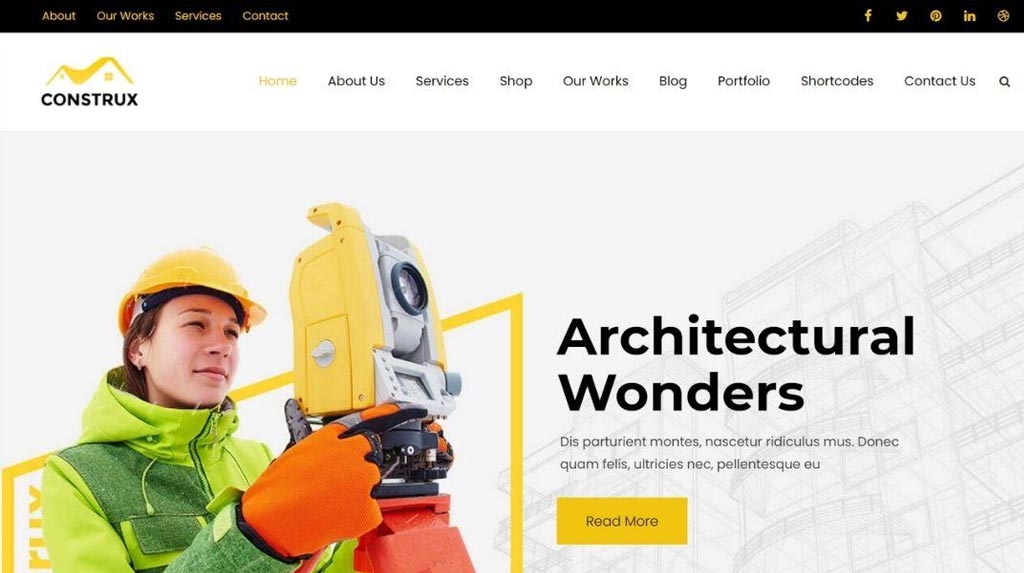 As a construction company, the way you present your business online is just as important as how you present it offline. Why settle for less when you can get great benefits by using this construction theme to adequately represent your business in the digital space.
Theme Features
Pricing table
Construction blog design
office/store locator with Google maps
Revolution slider
WooCommerec integrated
SEO-friendly, etc.
Who Can Use This Theme
The theme is suitable for contractors, construction companies, construction businesses, infrastructure websites, and building promoters.
Why Choose This Theme
The gallery section allows you to display pictures of your projects with descriptions. Plus, the theme is easy to set up and all you need to do is drag and drop features you need on the website. The layout is easy to navigate and user-friendly.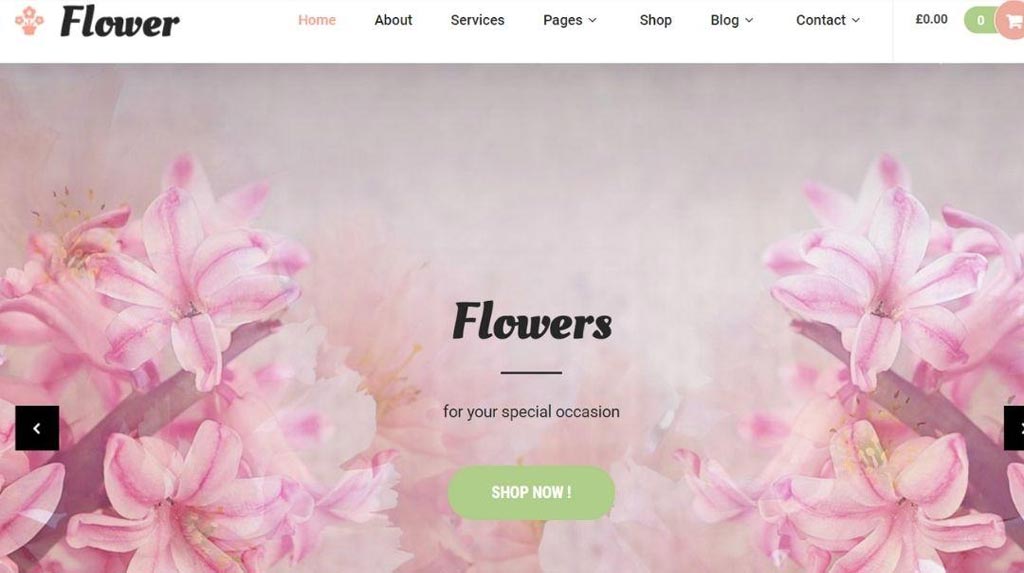 Are you looking for a template that has the simplest design with the right balance of colors? Look no further because the Flower shop theme is your minimal business needs. This modern theme has a simple layout that comes in divided sections that all blend together.
Theme Features
One-click demo import
Email and support form
Elementor page builder
Mobile-friendly
Optimized for speed
Post variation
Testimonial section
Price list section
SEO optimized, etc.
Who Can Use This Theme
Although the theme says Flower shop, it can still be used by any business because of its simple design. Florists, flower shops, coffee shops, and almost any business can make use of this theme.
Why Choose This Theme
You get free unlimited support for a whole year when you purchase this theme. There are also exclusive features and plugins that enable your website to stand out online. Customers can easily interact with the features, make purchases, and complete necessary tasks on your website.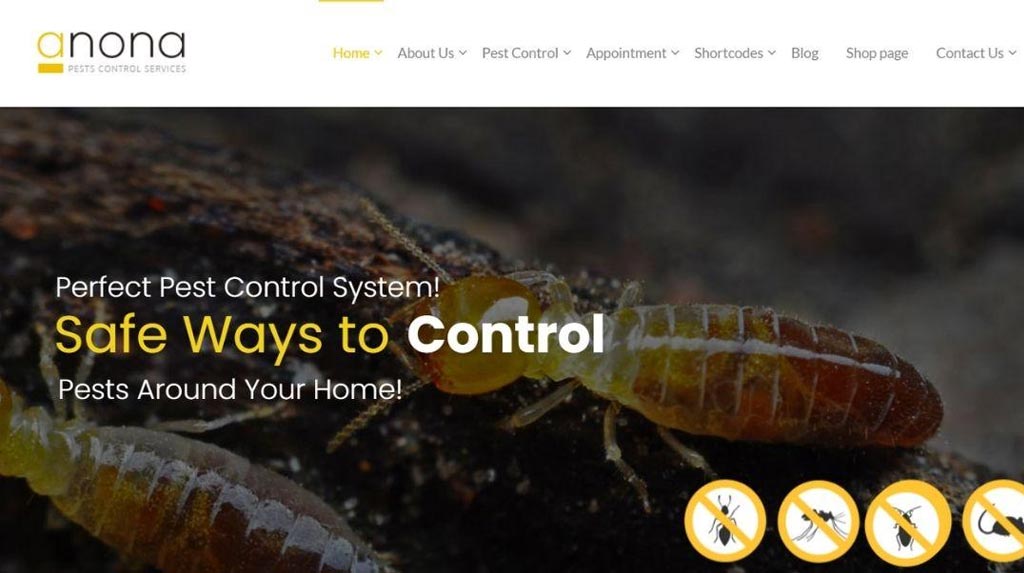 Pest control websites don't have to look so clustered or unattractive. With this Anona theme, you can present your pest control business the right way to your customers. The theme is clean, neat, and all elements are well aligned.
Theme Features
Responsive templates
Advanced system appointments
Carousel showcase
Business hours
Revolution slider
Advanced theme options
Testimonial section, etc.
Who Can Use This Theme
The layout of this theme is suitable for pest control companies, pesticide companies, pest control experts, and other pest control-related businesses.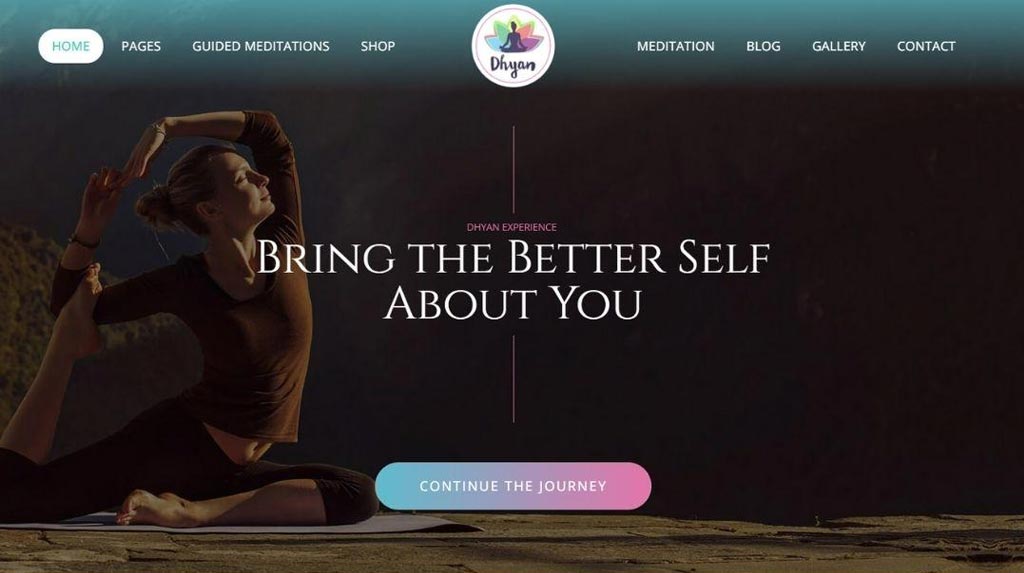 This Dhyan website theme is what you need to create your health and wellness website. The layout is calm and harmonious which is important for the kind of business you do. The colors are warm and welcoming, as the website helps to stimulate the right response from your customers.
Theme Features
Rich and clean typography
Nice blend of cool colors
Event calendar
Online registration of courses
Easy to embed videos
Shop
Gallery
SEO-friendly
Blog, etc.
Who Can Use This Theme
This simple website template can be used by yoga instructors, personal trainers, wellness instructors, yoga studios, fitness centers, etc.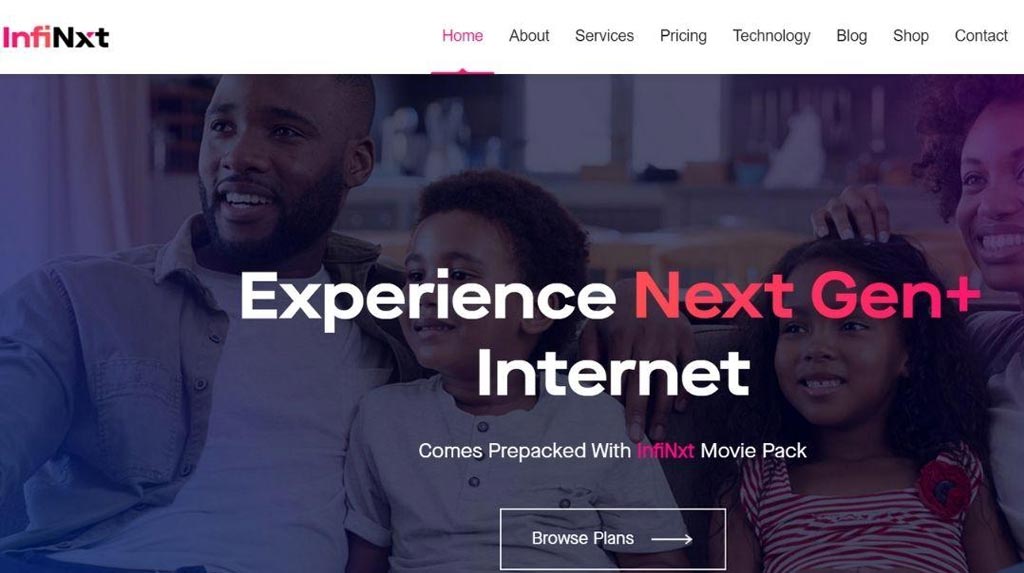 Infinxt is one of the best-looking themes you will ever download for your satellite and TV service business. The theme is eye-catching and has the right display of product or service descriptions with pictures.
Theme Features
WooCommerce integrated
Slider revolution
Contact form
Core features plugin, etc.
Who Can Use This Theme
This easy-to-use theme is suitable for internet companies, internet network solution providers, hosting plan providers, TV shows, digital gadget shops, digital gadgets bloggers, etc.
Why Choose This Theme
The theme has a rich display of colors and a nice typography style. It enables you to display products and services in a creative way that makes it easy for your customers to find what they are looking for on your website.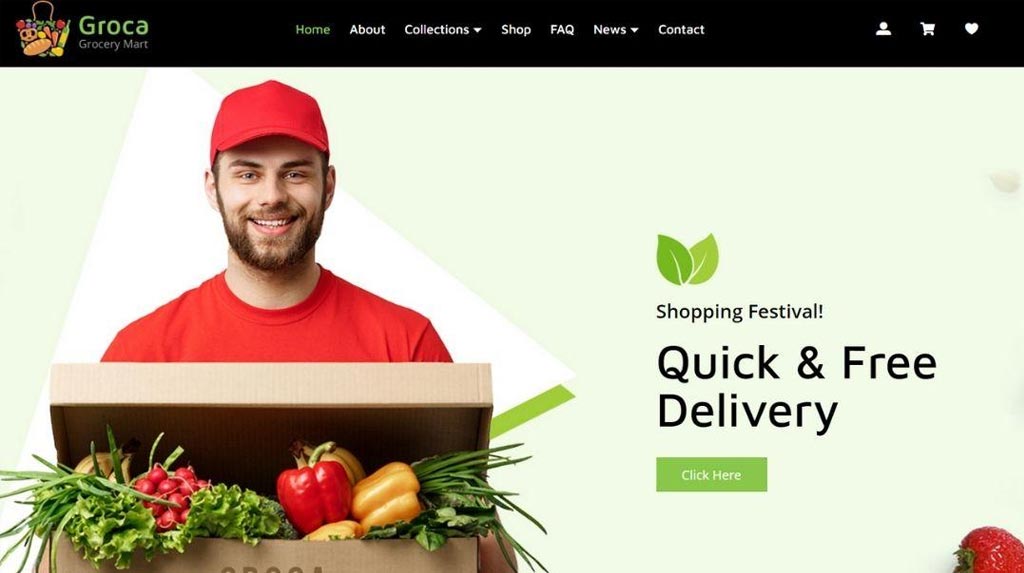 Take your offline grocery store online and reach more people with this theme specially designed for grocery stores. The Groca theme features a rich burst of colors that are not overwhelming but eye-catching enough.
Theme Features
Megamenu
Modern website design
Colorful template
Testimonials
Product section
Advanced search
Blog
Brand logo carousel
Countdown timer, etc.
Who Can Use This Theme
The theme can be used by fruit shops, supermarkets, grocery stores, food vendors, confectionery shops, organic food shops, etc.
Why Choose This Theme
You get to create attractive shop pages and give your customers an easier way to shop. The theme ensures you and your customers get the best experience while you receive payments and manage orders effectively online.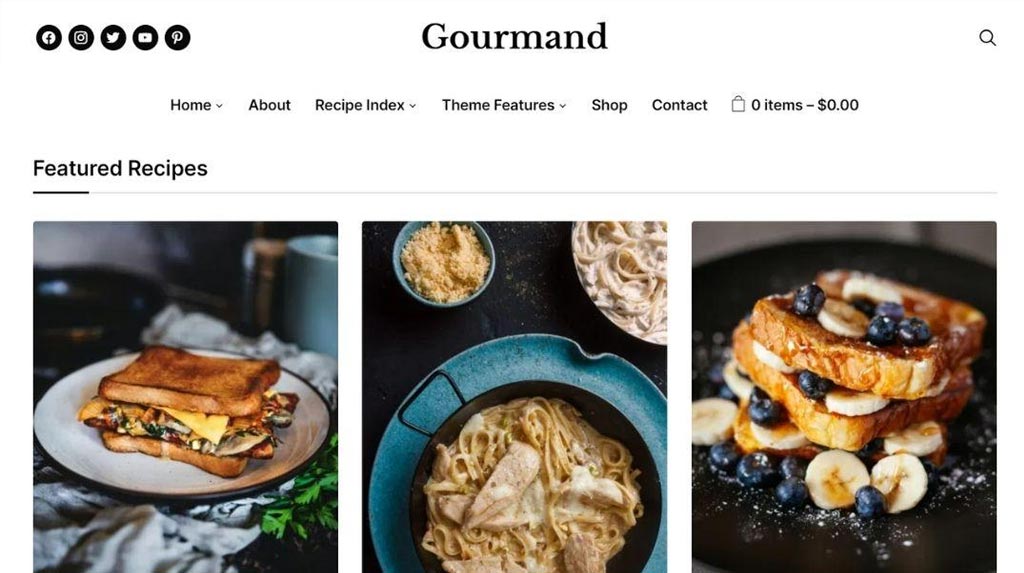 This classy Gourmand theme has a simple and clean layout that is just right if you want to start a food blog or an online magazine. It is stylish, well arranged, and versatile in its use.
Theme Features
Responsive layout
Lovely color schemes
Theme options panel
Visual customizer, etc.
Who Can Use This Theme
The theme is originally dedicated to food blogs and magazines. However, it can be used by anyone who wants a simple layout to work with for their business. It is ideal for food blogs, personal brand websites, style blogs, lookbooks, etc.
Why Choose This Theme
The theme has a simple layout that is easy to work with. There are no complicated sections and you don't need to set up multiple pages you might not need. Simplicity is key and this is what also attracts the right audience.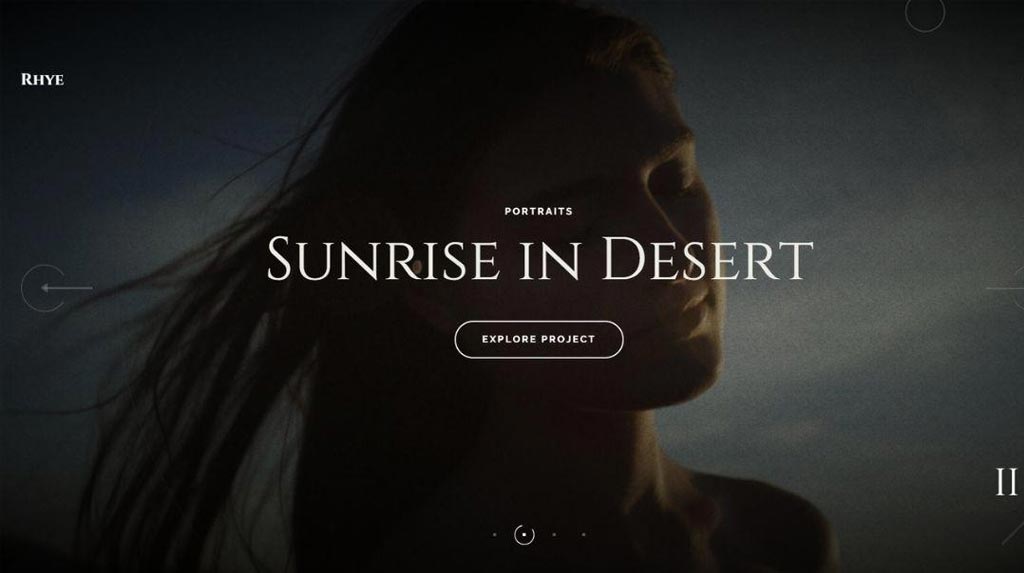 This Rhye premium theme has a unique layout display. It makes use of simple colors to keep things light and centered around what you do or have to offer.
Theme Features
Fluid design spacing
Seamless images Ajax transitions
Adjustable theme colors
Fluid typography
Google maps
Customizable preloader, etc.
Who Can Use This Theme
The theme is ideal for photographers, production studios, designers, creative agencies, content creators, bloggers, etc.
Why Choose This Theme
If you deal mostly with visual content, this theme is what you need. It is clean, crisp, and suitable for creatives who are looking for something less intense.
Conclusion
Website themes are just more than the looks, they also serve you by ensuring the right people see your business. You need to buy website themes that are well optimized for search while putting into consideration other important features.