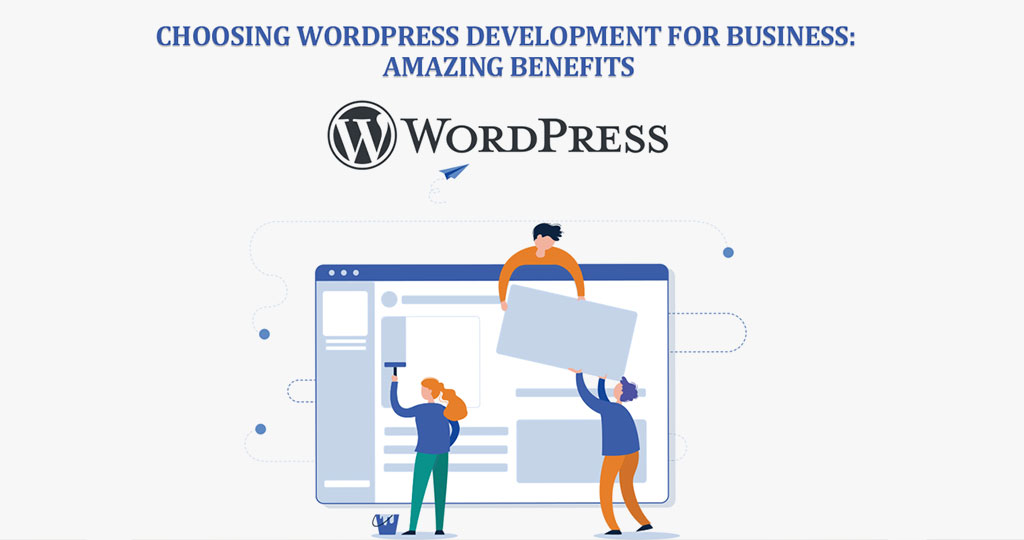 18 Feb

Choosing WordPress Development for Business: Amazing Benefits

In the digital age, businesses need to have their website. Whatever business you are in should be present and visible on the Internet because this is where many people are looking for solutions.

In the case of website development, WordPress often stands out. It is a free and open-source web development tool that allows you to easily create a WooCommerce product table listing for your website and publish content without needing a lot of software. As a web development company, we use it for ourselves and our clients.

But the benefits of WordPress development continue beyond there. If you are still determining if your investment is worth it, here are some reasons we recommend our clients for web design and development services.
1. Cost-effective
Those are starting their own business may think of a website later because it is expensive. But it's the other way around. Build your website with WordPress cheaply. All you must spend is buying a domain name and a hosting account like Bluehost.
In addition, it is free and includes thousands of themes you can choose from to customize your website and the plugins you want to add to optimize its appearance fully. But there are also particular themes. And it's suitable for those businesses with more complex needs or those who want their website developers to customize and customize the website design.
As you can see, any business can start promoting its website even with a small budget. You also don't have to worry about maintenance costs to keep your website up and running all the time, as it's cheap and affordable.
2. Easy-to-use
With many plugins and an easy-to-use interface, WordPress provides excellent functionality. WordPress makes adding blog posts, images, content, and new pages effortless and hassle-free. The platform's easy use reduces setup time.
3. Stable & Adaptable
The functionality and look of a website can change over time, and luckily WP is easy to use. As it continues to evolve with new trends, technologies, and features, users can choose from thousands of plugins and custom themes to get what they want.
4. SEO Friendliness
The WordPress code is spotless and straightforward, making it easy for search engines to read and index the site. In addition, each page, post, and image can have its meta tag keywords, description, and title optimized for specific keywords, allowing for more accurate searches. You can also use indicators to improve your performance analysis.
5. Support Different Kinds of Media
WordPress allows you to publish various media types, from images and documents to audio and video. This means you can customize your website content and communicate your brand and business in many ways.
For example, music companies and entertainment websites are taking advantage of this by hosting albums, movies, and behind-the-scenes tours. This gives their audience the best possible experience.
Another great example is when commercial podcast companies use certain parts of the podcast in their written content. In this way, they can serve an audience that listens more than reads, or vice versa.
6. Customization
Since WordPress is open source, users can modify it however they want to achieve the look and feel they want. For users who wish to use less code and more plug-and-play capabilities, WordPress offers over 55,000 plugins and themes to choose from.
Small businesses can create a website that meets their unique needs with these exceptional options. Instead of paying for web development packages they can't afford and don't need, they can only choose the features they need.
In fact, for small businesses looking to ditch the DIY website model in favor of a unique place to showcase their brand, there is no better choice than WordPress. Support from the WordPress developer can ensure that their website is a perfect reflection of their business without adding elements that increase costs and reduce efficiency.
7. Extend Your Website with Various Plugins
You can get the most out of your business website by adding plugins. It provides a great online experience by publishing valuable content for online business development. Using WordPress, you can find thousands of plugins available in their settings.
Some of the most popular things you can use for business that you can find in WordPress are WPForms for an easy-to-use interface, MonsterInsights for Google Analytics, All-in-One SEO for monitoring visitors from search engines, and Constant Contact for email marketing.
Most of the plugins you can find on WordPress are free. But if you want to upgrade and get more plugin features, you can buy special editions for a lower price.
8. Complete Site Control
With WordPress CMS solutions, you will have the opportunity to update your website regularly. WordPress offers complete site control, which reduces your reliance on web developers. You can immediately get their help and do the updates yourself.
9. Built-in Blog
Since WordPress was initially created as a blogging platform, it can be easily embedded and integrated. Setting up your blog's RSS/e-subscription, information options, and automatically adding new blog posts to other pages on the site (such as your homepage) is also very easy to set up and helps you grow your company. Lend a hand and make your site more robust and interactive.
10. Secure platform
It's no secret that hacks on the web have become commonplace in the past few years, and even large companies have been affected. WordPress has a dedicated team that monitors security issues and applies security updates.
But even then, you should take the steps below to strengthen your protection against online threats. Please include them in your WordPress site development process. Use a strong password to sign in. Limit the number of logins attempts with two-factor authentication.
Make sure your hosting provider follows the best security practices. Ask them about their network monitoring and access control systems. At the very least, they should use Secure Sockets Layer (SSL) encryption and Web Application Firewalls (WAFs).
To scan your site for malware, install a WordPress security plugin. If you are getting WordPress web development services from an agency, they should be able to advise you on secure hosting solutions.
Conclusion
Manual website development requires a lot of effort, time, and hard work. But thanks to the user-friendly features of WordPress, even small companies with no experience in web development can use it to build their online presence.
In addition to special features, you can also rely on the WordPress community and its friendly and fast support. They can be your online companions to help you improve your website and learn about innovations and trends that you can also try out.
In summary, choosing WordPress for the marketing and development of your business will help you improve your game. There are many essential tools that you will need and use regardless of your web development skills. Since its original purpose is to help bloggers get their ads online, it can help you increase your online business.
There is no doubt that WordPress is a popular web hosting software for both personal and corporate use. And millions of websites from all over the world can prove it. So, if you want to add to that number, you can't go wrong with WordPress if you want to improve your online business.