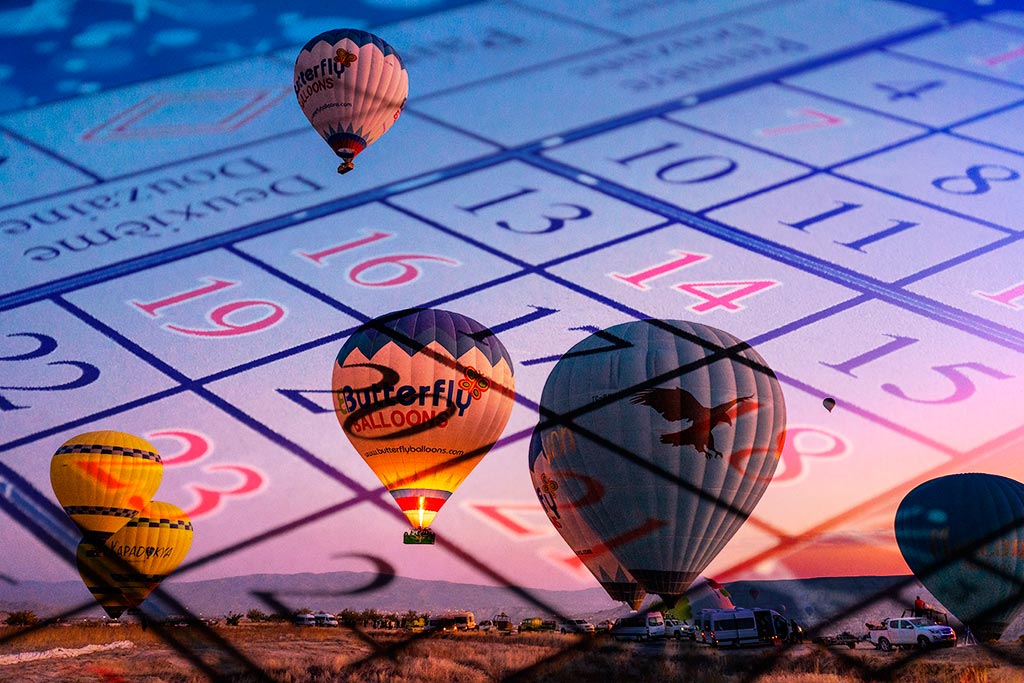 02 Oct

8+ Best WordPress Event Calendar, Booking Plugins & Page Builders Addons – Newcomers

Who would have thought that in 2020, event calendar plugins will be in high demand?! Who would have imagined that event organizers will look for the best wordpress event calendar plugins, like crazy neurotics, in the year when thousands of events will have been postponed or canceled?!

That's why it is good to refrain from giving advice to an enthusiastic entrepreneur, whether he is at the beginning of a business or adapting his business to the times.
1. EventoZilla – Event Calendar WordPress Plugin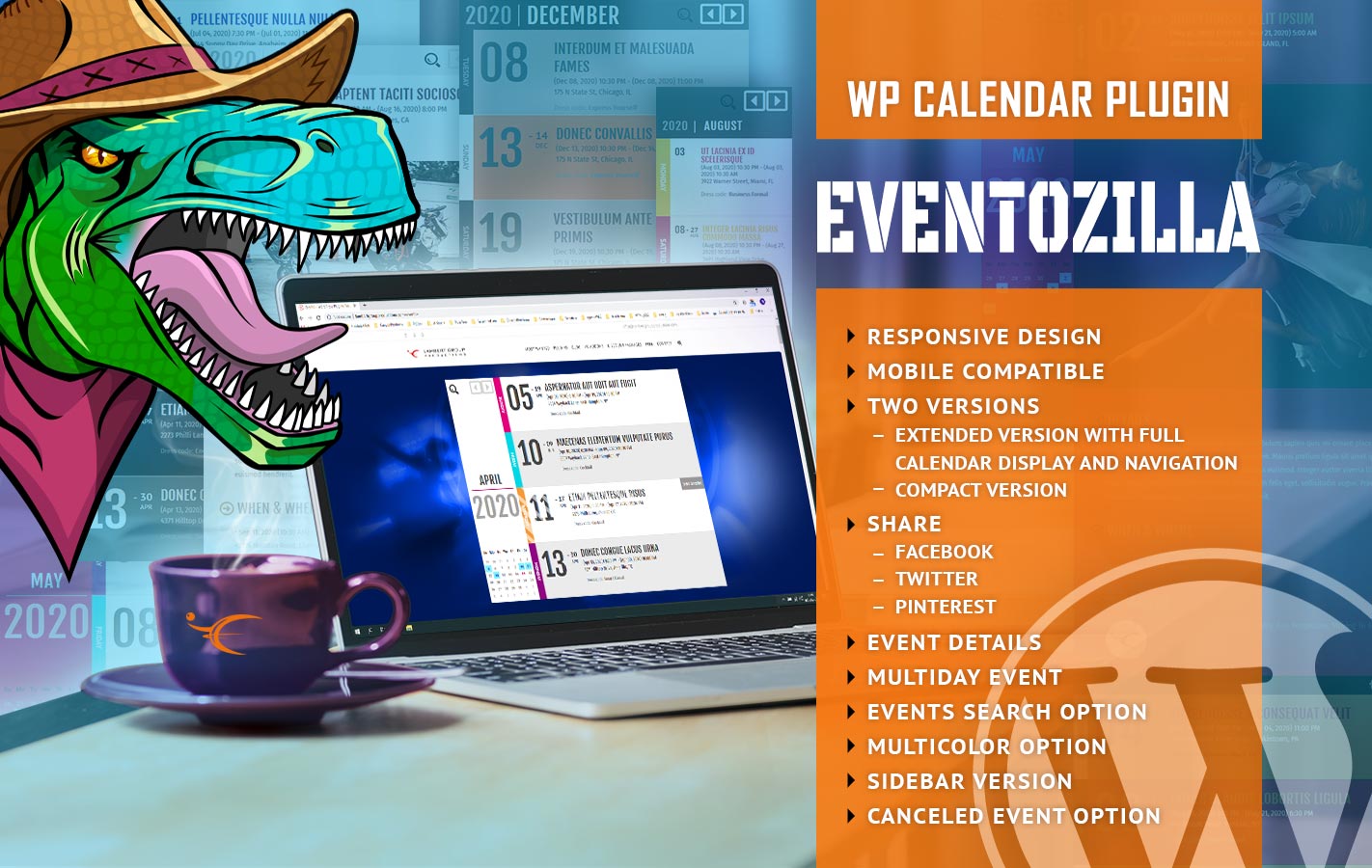 EventoZilla is an Event Calendar WordPress Plugin, with extended version, compact version, sidebar version, search option, almost any combination of colors and a complete tile calendar navigation system.
Main Features of EventoZilla – The Best Event Calendar WordPress Plugin
Book Now/Register To Event
You can define the url to the page where the 'registration to the event' is done. If the url is present a 'BOOK NOW' button will appear. You have the option to translate or change 'BOOK NOW' text.
Mobile Compatible
It is compatible with IOS and Android operating systems.
Responsive Design
The event calendar will adapt to the width of any device, screen and orientation. It has full width or centered option.
Two Versions for the best WordPress event calendar plugin
You have an EXTENDED version with full tile calendar navigation system & search and a COMPACT version with months navigation & search.
Multi-day Event
For each event you can set a time interval for its duration, in case it is not just a 1 day event.
Search Option
You have the option to search an event in the events list.
Sidebar Version
You can set the calendar so that it will fit in the sidebar area.
Event Details
For each event you can define the title, start date & end date, address, event details, dress code and organizer information.
Share
You can share each event on Facebook, Twitter or Pinterest.
Cancel Event Option
If an event has been canceled, there's no need to delete it. You can just activate 'Event Canceled' option and it will be displayed as canceled in the events list.
Full Calendar
For the extended version of the best WordPress event calendar plugin you can have a complex tile calendar where the events are highlighted and you can quickly navigate the months and years.
Multicolor Option
You can configure almost any combination of colors.


2. WPEvent – WooCommerce Event Ticket & Calendar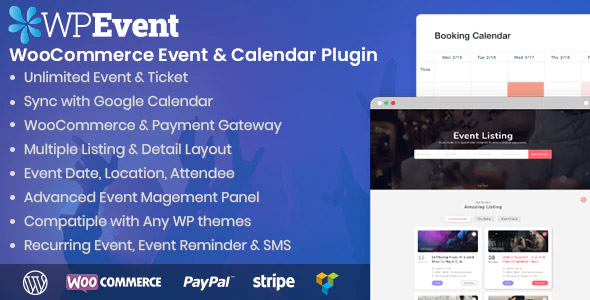 WPEvent – WooCommerce Event Ticket & Calendar Plugin supports a wide range of services provided by businesses, individuals that provide online booking services through websites. With this plugin, you can manage your services quickly and easily. WPEvent – WooCommerce Event Ticket & Calendar Plugin is supporting Woocommerce, PayPal, Stripe, SMS/Email notifications, reminders, manageable calendar, customizable templates, form-builder, multiple category levels, multiple vendor, multistore… and many other features.
Key FEATURES LIST:
Unlimited Event Ticket & Ticket
Unlimited services and clients
Unlimited colours
Unlimited variety of service suppliers
Difference view
Associate particular services to particular service providers
Set different service duration and buffer times
Single Event page
Set prices for different services
Event Filter
Event Schedule
Increase customers with great mobile registrations
Event calendar short-code and widget.
Custom time slots for vacation/closed dates and more.
Event Name & Event Description
Customers can manage their account information.
Google Calendar API
Simple WordPress and WooCommerce integration
Online Payment – PayPal integrated
Allow discount coupons
Each day calendar overview for all
Email Templates – Editable e-mail notifications
Specific Time Bookings
Multiple Bookings
Event Feedback's. Clients with attended the events can add feedback rating and comment. Staff can request a feedback.
Multiple services and service categories, Service Extras.
WooCommerce integration.

3. ARB | Appointment Reservation and Booking Plugin for WooCommerce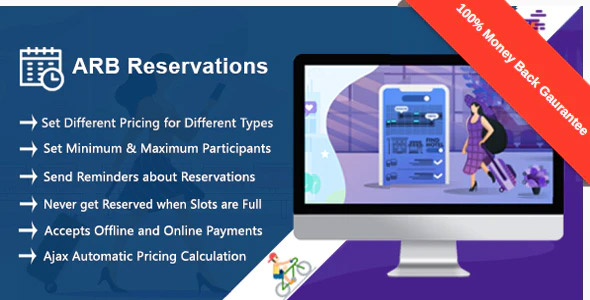 This WooCommerce extension plugin allows your customers reserve hotel rooms or resorts, appointments for Doctors, Courses, Salons, Renting products, and any other businesses which require appointment booking. In addition It has Request for Quote feature as well.
You need ARB if you need any of the features listed above or any of the following features:
Choose Different Pricing for Different Resource Types
Choose Different Pricing for Different Person Types
Ajax Pricing Calculation Makes things Automatic
Set Minimum and Maximum Number of Participants
Send Reminder to Clients about their Reservations
View and Manage orders from Admin panel
Option to switch on/off Require Confirmation
Option to switch on/off Cancellation
Never get Reserved when Slots are Full
Accepts multiple Payment Gateways like PayPal Payments
Cash on Delivery, Bank Transfer, Check Payments etc
Certain days you can select in a week as not reservable
Already reserved rooms cannot be booked again by customers
ARB works with all supported WooCommerce extensions, thus you can use any payment gateways supported by WooCommerce. Some popular payment gateways you can use with ARB are:
PayPal, Stripe, Square, Google Ads, Amazon Pay, PayFast, eWay etc. As addition you can also use Cheque Payments, Bank Transfer or Cash on Delivery payment methods.


4. Restaurant Reservation – Table Booking with Seat Reservation for WooCommerce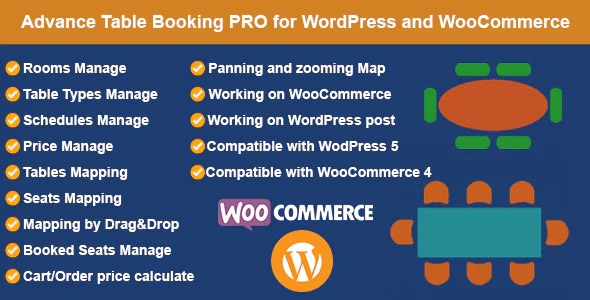 Online restaurant reservation system is an excellent plugin for your solution, it suitable for business type restaurant, bar, event etc. Very easy and flexible to install and configure, you will have an excellent restaurant table reservation system. Quick and simple, the plugin will really useful for your website.
You can use plugin on WooCommerce with product, cart, checkout or use on a WordPress post with simple booking form
Admin can create rooms and setting data for profiles. Each profile admin can upload room background image or pick background color, set room size, table and seat booked color.
Admin can add types of table, includes name (for example VIP, Standard etc), table background color, table shape, seat background color and seat shape.
Admin can create schedules for profile, they can be separate schedules or daily schedules.
Admin can setting price rules for table types, includes price and price type (price per seat, price per table and price in one time).
Admin can create tables, includes label, seats, and type. And then admin can mapping tables and seats by drag&drop with smart guide line.
At the product edit page admin choose the room profile for the product, at frontend product page, customer can see tables and seats mapping, then he can choose a schedule and choose seats then add product to cart. When he go to cart page, the booking information will display and price also calculated here.
When the customer complete the order, the booking information will display in order detail page and rooms manager area in Backend.
As for WordPress post, admin can also choose room profile for a post, and customer can choose tables and seats on the post page, fill in form and submit booking, the information will be send to admin and customer email, it also can be manage in backed.

5. Facebook All-In-One For WordPress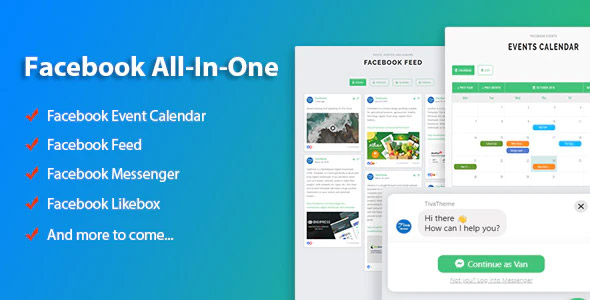 This is the ultimate and most advanced plugin to integrate Facebook content into your WordPress website. With this plugin, you can display the Facebook Events, Facebook Feed (Post, Photos, Albums, Videos), Facebook Messenger and Facebook Likebox on your web. So it will help you to increase the audience of Facebook page and the number of sales. This plugin can be used on 2 ways: Widget or Shortcode. And there are many options to customize the plugin.
This plugin can be used on 2 ways: Widget or Shortcode. And there are many options to customize the plugin
Facebook Event Calendar
Facebook Event Calendar will display all events from your Facebook page on calendar. There are 2 layouts for your choice: Full and Compact. With nice popup, user can quick-view event for each day.
Facebook Feed
Facebook Feed is a simple and powerfull tool to add Facebook Page content to your WordPress website in an easy and seamless way. Posts, Photos, Albums and Videos that you publish onto your Facebook Page will be automatically displayed on your website.
Facebook Messenger
Facebook Messenger allows you to put a Facebook chat box on your website, visitors can chat with you via your Facebook page inbox. Your customers find it convenient to ask about your products or services. Modify colors, choose languages, change position (Left, Right, Center) and much more…
Facebook Likebox
If you are looking for a quick and simple way to display a Facebook Likebox, this is your plugin! It's the simplest way to advertise and increase the fans for your Facebook Page. You can setup to display the Likebox on the slider (Left or Right) or on the popup when website is loaded.


6. FAT Event – WordPress Event and Calendar Booking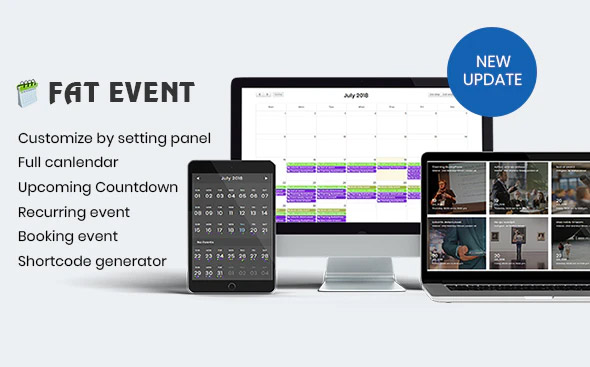 FAT Event is WordPress Event and Calendar plugin what developed for create and manage events for any website. It is a fully responsive, fully customize by setting panel, integrated with google map, booking and payment with Paypal.
Some features for FAT Event – WordPress Event and Calendar Booking:
Fully responsive clean design
Fully Calendar
Upcoming event countdown
Timetable event view
Conference event view
Image size, colors,font sizes, spacings, are changable via settings panel
Support gallery (image and video) for event
Appear animation effect
Compatible with Visual Composer
Integrated Paypal and Stripe gateway
Shortcode builder
QRCode attach in email notification
Create event at frontend
Ready for translation (.mo file is included)

7. Car Park Booking System for WordPress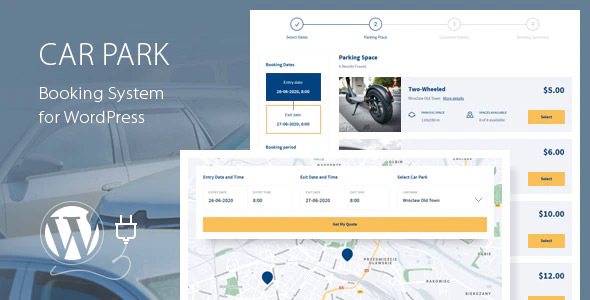 Car Park Booking System is a powerful online reservation WordPress plugin which provides all the tools and features needed to run your parking lot business.
Key features list:
RESPONSIVE LAYOUT
Car Park Booking is fully responsive which means each and every plugin element adapts for any screen size.
Step Based Navigation
The navigation in the plugin is based on convenient steps with the possibility of returning to already completed steps (remembers once completed forms).
Map of Car Park Locations
The locations assigned to a given form are displayed on the map. Clicking on the location marker displays a convenient popup with information about parking, address details, opening hours and types of parking spaces supported. You can create an unlimited number of locations and assign them to different booking forms.
Multiple Booking Forms
You can create an unlimited number of booking forms and set different options for each form, assign different locations, etc. Thanks to this, you can place many reservation systems on your single website, depending on your needs.
Unlimited Locations
The plugin supports an unlimited number of locations. Each location has assigned parking space types with their number, exact address, contact details, map coordinates, business hours and dates excluded from the booking system, supported payment methods, booking notification options, google calendar options, and many smaller but important options such as the minimum or maximum booking period, in advance booking etc.
Multiple Payment Methods
Car Park plugin provides multiple payment methods including PayPal, Stripe, Cash and Wire Transfer. If you use WooCommerce on your website you can use the payment methods supported by the WooCommerce.
Different Billing Types
The plugin supports various payment handling methods. Settlement per day, hour, minute, day+hour, hour+minute.
WPBakery Page Builder Integration / Google Calendar Integration
Car Park Booking comes integrated with popular WPBakery Page Builder for WordPress plugin and Google Calendar for bookings.
Compatible with WPML
Car Park Booking is compatible with WPML, supporting multi-language websites. The .po and .mo files allow you to translate your installation.
One Click Demo Install
Import demo data to start with by using plugin settings menu.


8. WordPress Booking Hotel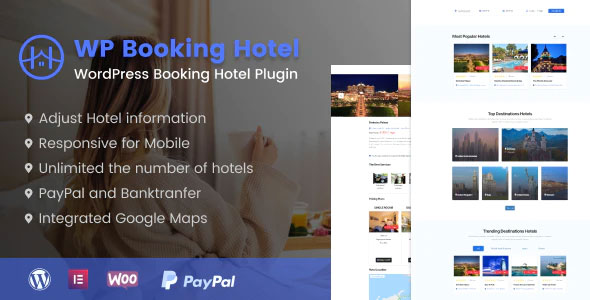 WordPress Booking Hotel plugin comes with all needed functionality to run hospitality business website and manage reservations. You can easily integrate with your website or new template. You can manage hotels, room types, amenities, capacity, hotel rates with different date range and month wise advance payment feature.
Features:
Responsive for mobile
Adjust Hotel information
Save and check information of orders and customers
Easily Booking just one click
Unlimited the number of hotels
Add Review
Presentation facilities: Amenities, Image Gallery, Rates, Extra Services, tag
Booking hotel with method payment: Paypal and Banktransfer
Bookable Extras or Free Services
Listing hotel
Integrated google map
Hotel description
Filter hotel by check-in, check out, address keyword, rating, room type, max adult, max child
Add blocks with Elementor

9. WP Appointment Booking & Scheduling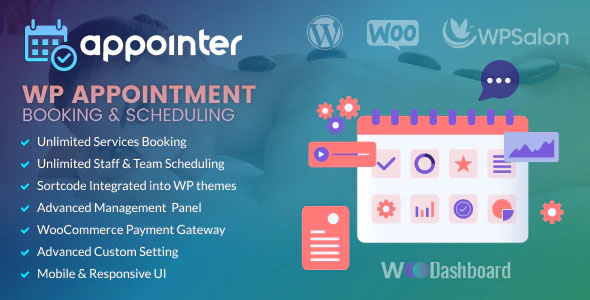 WP Appointment Booking & Scheduling is premium scheduling tool for service providers with easy to use and powerful features and gives you an automatic booking and online scheduling of your services, saving your time and money.
Main Features List:
Unlimited number of staff
Unlimited services and clients
Advanced employee and resource schedule management
Set different service duration and buffer times
Set prices for different services
Increase customers with great mobile reservations
Appointment calendar shortcode and widget.
Customers can manage their own appointments.
Customers can manage their account information.
Front-end and admin are both fully responsive.
Fully translatable
Simple WordPress and WooCommerce integration
Independent Booking Calendars
Online Payment – Paypal integrated
Allow discount coupons
Multiple Bookings
Cart System (Book several appointments at once)
Payment With Woocommerce
Email notifications (Reminders, New Appointment, Appointment Cancelled, Request Cancellation, Updated, Feedback notifications, Callbacks notifications)
Option to Edit, Delete, Cancel Appointment
Calendar type color events in staff and clients area
Responsive Bootstrap Layout
Create custom events (classes, conferences, meetings, etc) and allow your customers book their attendance through a nice&polished front-end event calendar.
Keep your customers and employees notified and reminded of their appointments in realtime with SMS notifications
Multiple employees with custom working hours and days off.
Special Days support – configure specific dates or date ranges with a different schedule
2-Way Google Calendar Integration for each employee
WooCommerce integration
Multiple services and service categories, Service Extras
Multiple business locations

---
Your business need more online sales?
Just pick one of these brilliant WordPress Ecommerce Theme.
Click here!
---
8+ Best WordPress Event Calendar, Booking Plugins & Page Builders Addons – Newcomers. Other tags for this article are: Appointment Booking and Scheduling Software System, Booking WordPress Calendar, Scheduling WordPress Calendar, Premium WordPress Calendar, Events WordPress Calendar, Modern WordPress Calendar, Elementor Event Calendar, Elementor Widget Addon Event Calendar, Event Calendar for Elementor Page Builder, Event Calendar for WPBackery Page Builder, Top WordPress Calendar, Top WordPress Calendar Plugins, WordPress Event Calendar.