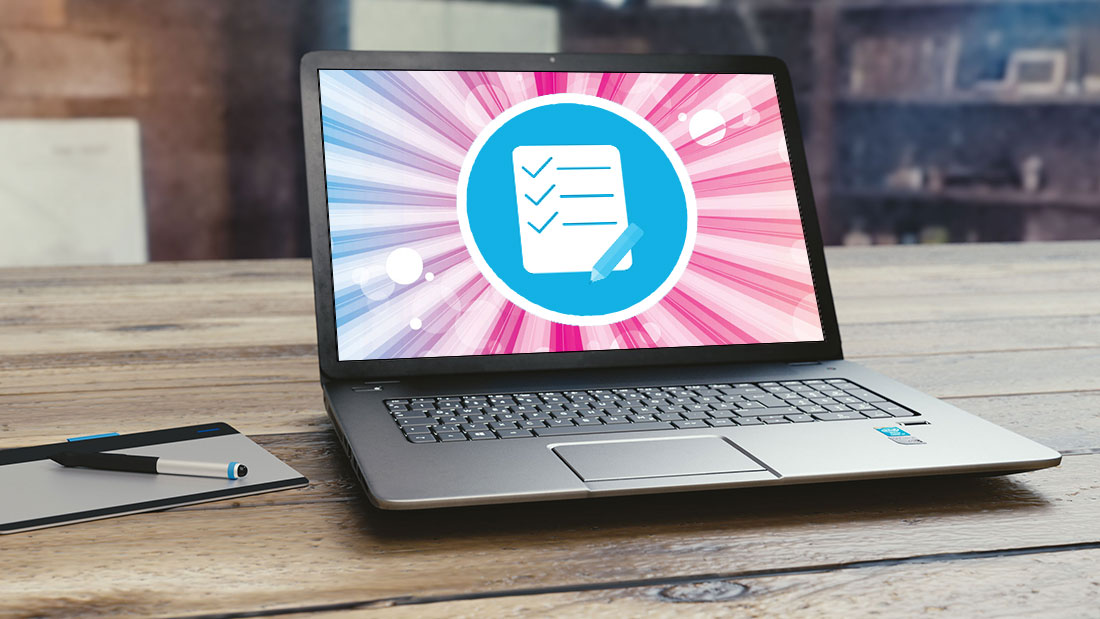 24 Apr

9 Premium WordPress Form Plugins

Oh, how i hated to crochet forms of any kind for any website a while ago! And make changes in any form too! I can not say that at the moment I feel some thrill of ecstasy by adding forms in web pages but there is no torment after I install the best WordPress form builder plugin in my WordPress theme. It wouldn't be right to call the one I consider it the best form, even though many would be tempted to believe it is the first one on the list.

Please choose the plugin that you will best handle!
1. FormCraft – Premium WordPress Form Builder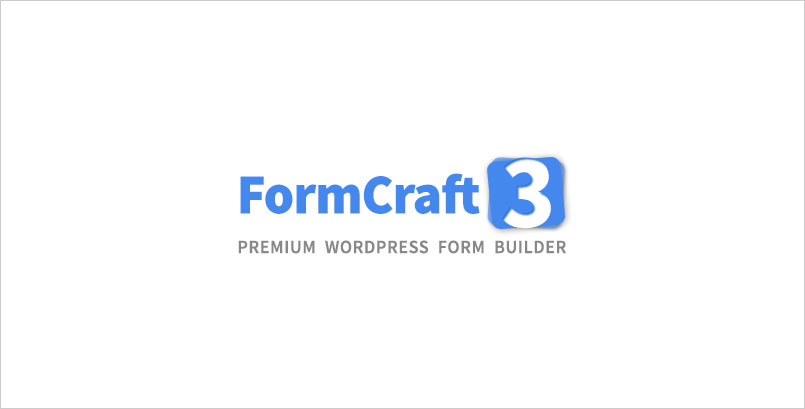 FormCraft is the most complete, flexible & customizable Drag & Drop Form Builder tool for WordPress.
The Goodies Are:
Powered by Drag & Drop Functionality
With the familiar drag & drop style of editing, FormCraft is a breeze to use. With a clean GUI to work in behind the scenes you simply drag the item you need from the menu and drop it in place on the form you have chosen.
WordPress Familiarity
To create that compelling user experience its authors developed FormCraft to feel immediately familiar with the WordPress Dashboard. Once activated you will see a new menu item in WordPress and an easy to use dashboard with menu items that make building forms a breeze.
Style it Up
With multiple layers of customization available within FormCraft, you can easily change fonts, update layouts, place your logo or even add custom CSS to really tweak the look and feel.
Responsive & Scalable
No matter the device, FormCraft has a display resolution ready to take it on, whether it's mobile, smartphone, tablet or even smartwatch your webforms will never have looked better.
Analytics
New to FormCraft is real time web form analytics. You can view form views and submissions, check conversion rates and payment conversion rates – weekly, monthly, yearly or by custom periods.
Multi-Site
FormCraft works on one standalone installation, or any one site on a WPMS installation. An add-on is required to use the plugin across all the sub-sites of a WordPress Multi-Site Installation.

2. eForm – WordPress Form Builder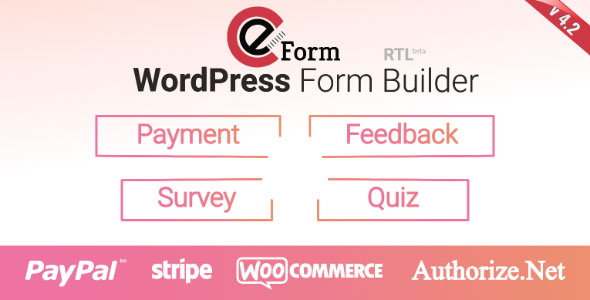 eForm (Previously FSQM Pro) is a premium form builder that can be integrated into your existing WordPress site. It is a complete form management solution, for quizzes, surveys, data collection, payment / cost estimation and user feedback of all kinds.
Features List:
Drag and Drop Form Builder
Material Inspired Theme
Repeatable Element
Scoring and Ranking System
WordPress Core Integration
Multi-Criteria Conditional Logic
Mathematical Evaluators
Smart and Secure File Uploader
Cost Estimation & Payment
Complete Submission Management
Reports and Analysis
Automated Notification E-mails
PayPal and Stripe Payment Options
WooCommerce Integration
Custom URL Submission
Default & URL/Meta Based Prefill
Free and Fast Support

3. Quform – WordPress Form Builder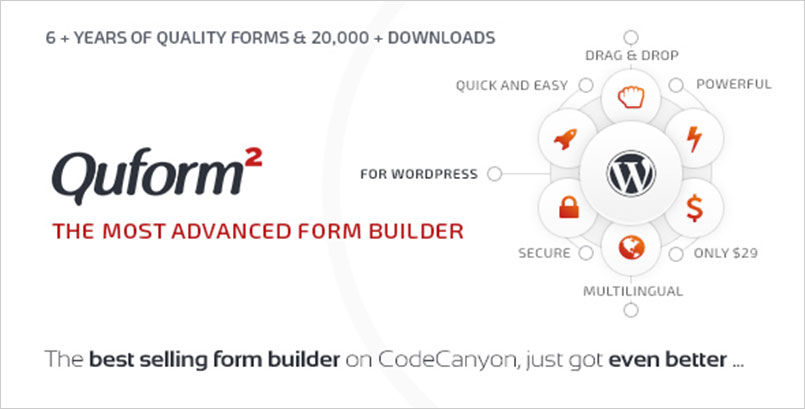 This is the must-have tool for you – the ultimate form builder for WordPress. It allows you to quickly and easily build multiple forms with total control.
Latest Functionality features of Quform – WordPress Form Builder:
Multi-page forms
Edit entries
Duplicate element
Submit button element that can be moved
Unlimited emails can be sent from a single submission
Conditional logic on notifications
Add attachments to notifications
Confirmation system logic
RTL support
Labeling system for form entries
Trash forms and entries
Migrate tool
Performance enhancements
CSRF protection
Fancybox 2 and Magnific Popup supported
Kendo UI Timepicker and Datepicker
Add background images or icons on Checkbox or Radio elements
Optgroups in the Select and Multi Select
Side-by-side elements in the form builder
Column Layout element for complex form layouts
Export entries directly to a .xls, .xlsx, .csv, .ods or .html file
19 included element types

---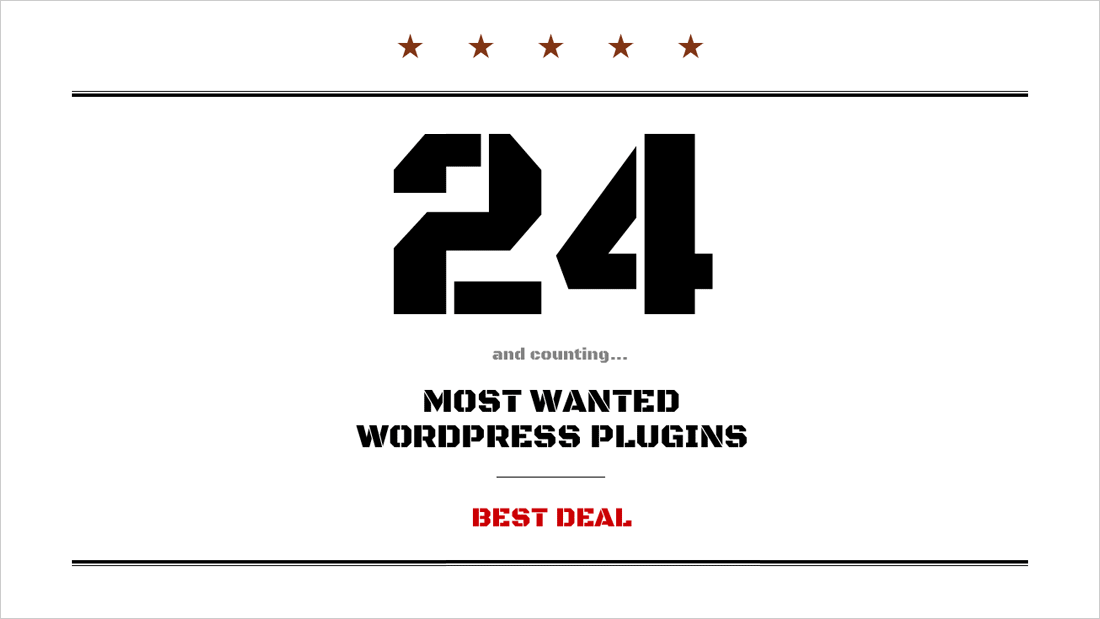 24 best WordPress plugins for creating a complete and professional WordPress website are found in THE MOST WANTED WORDPRESS PLUGINS PACK: Premium Sliders, Video Players, Logos Showcase, Full Screen Image Or Video Backgrounds, Audio Players, Radio Players, Carousels, Countdowns. Each plugin included in this bundle contains detailed help documentation and specific video tutorials.
Limited Time Offer!
Special link – Here
---
4. WP Cost Estimation & Payment Forms Builder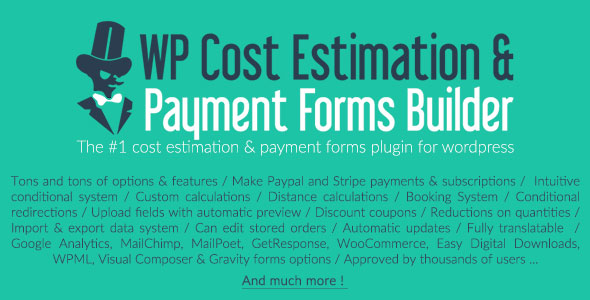 WP Cost Estimation & Payment Forms Builder can be used to sell any type of service or products: applications, websites, graphics, seo, pets, lunar fragments …. or anything else.
Main features:
Fully responsive
Multiple forms management
Fully manage Steps and Items
Can make Paypal and Stripe payments
Powerful conditional system : visually link steps and easily add conditions
Unique and smartly designed backend
Items can be checkbox, textfields, numberfields, textareas, dropdowns, date-pickers, time-pickers file fields etc…
Items can be hidden/displayed depending on conditions
The selection of the quantity can be done using buttons, number field or slider
Items images can be automatically filled with the selected main color
Item may have a price or apply a percentage to the total
Multiple files upload fields with image preview
Freely define the allowed types of files and max number of files for each files upload field
Customize colors, font, texts and currency
Easily use any Google Font in your forms
Integrate your forms in your pages using shortcodes
Open a form as popup simply using a css class on button
Fast & easy import/export data system (images included !)
WooCommerce support : items can be woo products, and can be added to cart automatically
Easy Digital Downloads support : items can be digital products, and can be added to cart automatically
You can create your own textfields in the last step
If you prefer, you can assign a Gravity Form to the last step
You can apply differents reductions depending on the quantity selected
Confirmation email can be sent to the customer too
Emails can be customized from admin
Progress bar can show total price or step number
Estimations and payments work with subscriptions
Forms can generate a single price + a subscription price at same time
You can choose to set a percentage of the total price for paypal payment
Payment can be enabled depending on defined conditions
Statistics panel
Orders can be exported as .csv
Stored orders can be edited directly from backend
Change items order by drag and drop
Step can have description under title
Steps and items can be hidden ( easily apply tax in your forms)
On each link, freely choose if all conditions must be filled or only one to activate the next step
Facultative legal notice on the last step
A specific url can be opened in new tab when selecting item
Result can be a price range
Users can save their current selection and finish the form later
Fully translatable using .po file or WPML
German and French translations included
4 demonstration forms included
Automatic updates
Reactive support
And much more !

5. NEX-Forms – The Ultimate WordPress Form Builder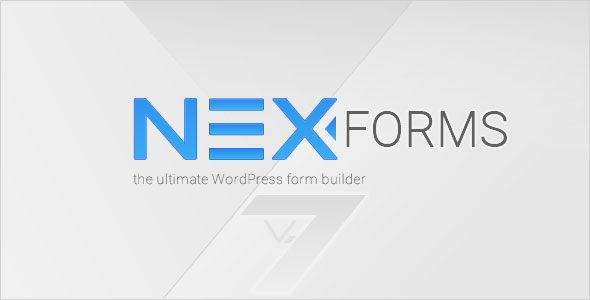 The authors of the plugin say this is the only form builder you will ever need. What do you think?
Key features:
Form Analytics
that gives you stats of form views, form submissions and even form interactions! Complete with line, bar, pie, polar and radar charts.
Cost Estimations / Math Logic
Use Math Logic to perform cost calculations based on user selections.
Fully Responsive
NEX-Forms easily and efficiently scales to any device from phones to tablets to desktops.
Interactive Forms
Interact in real-time with your users by displaying the users input in the forms in a manner of conversation.
Conditional Logic
Add unlimited rules with multiple conditions and multiple actions.
50+ Form Elements
Make use of 50+ Bootstrap styled fields with pixel perfect precision! From special fields to uploaders and your most common form fields.
Multi-Step Forms & Online Quizes
Combine multi-steps, math logic and conditional logic to create online questionnaires.
Drag & Drop
Add and sort form elements with simple drag and drop. If you can play solitare you can build stunning web forms without a single line of code!
Full Grid System
Create any form layout with one of a kind draggable grid system! Includes unlimited grid nesting!
Form Animations
Catch your users eye with 70+ super smooth animations.
660+ Icons
Make use of 660+ icons that can be added to form fields. Font Awesome icons are vectors, which mean they're gorgeous on high-resolution displays.
1200+ Google Fonts
Allows you to easily add fonts from the Google Font Directory to use in your forms. Over 1200 fonts are made available in NEX-Forms.
Built-In Anti-Spam Protection
Whith NEX-forms built-in Anti-spam you will never receive an unwanted email. No captchas needed to prove your users are in fact human!
Form Import and Export
Export form with a single click. Includes all form settings and can be imported into any NEX-forms installation.
Sticky Forms
Add sticky-paddle/slide-in froms to any side of your site!
Live Form Previewer
Preview your form in realtime, at anytime, while you are busy building it!
Duplicate Forms
Duplicate existing forms with a single click! Duplicated forms include all the original form's settings!
Form Templates
Create your very own custom form templates to be re-used time and time again!
Unlimited Forms
There is no limit to how many forms you can have on your website
Tons of Field Settings
Customize your form fields with a huge variety of easy to use settings!
Field Duplication
Copy fields, grids, panels and any form element so that you dont have to do any double work!

6. ez Form Calculator – WordPress plugin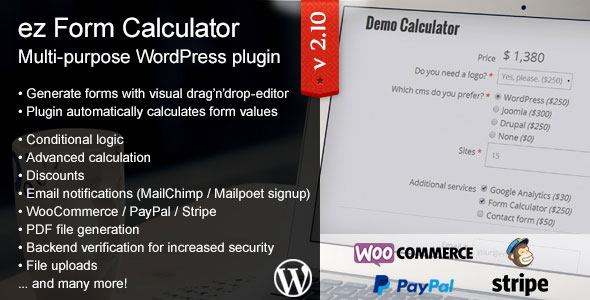 With ez Form Calculator you can create simple form calculators, advanced cost estimators or extensive contact forms for both yourself and your customers.
Features:
Generate forms with visual drag'n'drop editor
Advanced calculation: perform multiple calculations with each form element
15+ different form elements like dropdown-menus, checkboxes, datepicker etc.
Backend verification for increased security
File uploads: users can upload single/multiple files and send them as email attachment
Conditional logic: show, hide and set values conditionally
Discounts: modify price by value rangers
Visual email handling with the WordPress editor
Import / export forms for easy backups
WooCommerce integration: attach forms to products or simply use WooCommerce as payments gateway
PayPal integration
Automatically generate PDF files from submissions and send as email attachment
Create summary tables before form submission as well as price requests

7. Super Forms – Drag & Drop Form Builder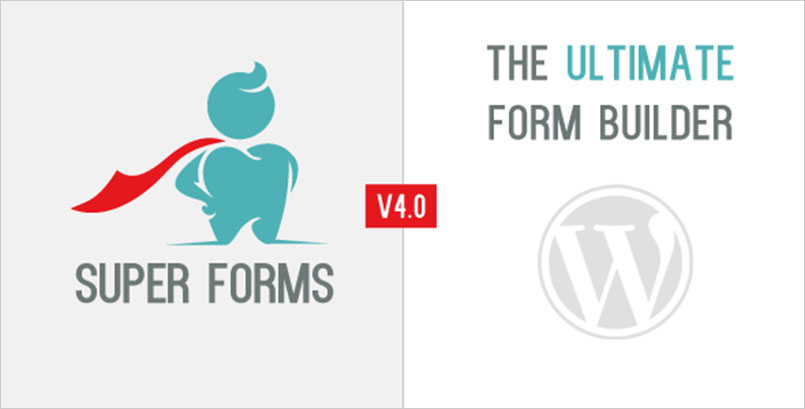 Super Forms – Drag & Drop Form Builder is very user friendly when it comes to building forms. With unlimited options you will be able to create any kind of forms.
Main Features:
Drag & Drop
30+ Elements
Column/Grid System
Fully Responsive
Conditional Logic
850+ Icons
Multi-Step/Part
Save Contact Entry
Export Contact Entries
e_Mail Autoresponder
PayPal integration
Admin e_Mails Alert
Hidden Fields
Ajax Powered
File Upload
April-SPAM protection
Image Selection
Add more (+)
Automatic Updates
Customizable Colors
Custom CSS
Cross-site Import
No Programming
TinyMCE Editor Field
Import Entries

8. Modal Survey – WordPress Poll, Survey & Quiz Plugin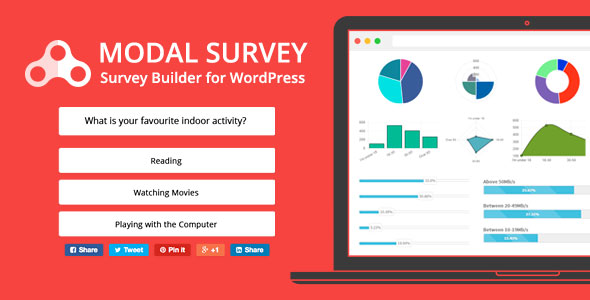 Modal Survey gives you the power to create any Customer Satisfaction or Customer Feedback Survey on your pages easily with the Visual Poll Builder.
Some Key Features:
Visual Builder on WordPress Administration with Live Preview of the Questionnaire
Mobile-friendly & Responsive WordPress Plugin
Parallax effect on the Polls during Page Scroll
Set Start and Expiry Times for each Questionnaire
Provides Gradient RGB Color Picker on the WordPress Plugin admin
Unlimited Questions and Answers, Reset Counters with One-Click
Lock the Screen with the Questionnaire
Social Sharing with Various Styles and Modes
Request participants name and email at the end of the survey
Specify Custom Message at the End of the Questionnaire
Custom animations with Full Range of jQuery Easing Effects
Fully Localizable Plugin, Define All Messages, Texts on the WordPress Admin
Automatically Display the Same Poll for Once per User
Animated Charts, Graphs, Bars and Dynamic Text for the Questionnaire Results
Set to each Questionnaire Closeable by the Users or Force to Fill Out
Display the Polls only when the Users Scroll Down at the Bottom of the Page
Export the Questionnaire to PDF, CSV, XML, XLS and JSON
Import Quiz from JSON (previously exported by Modal Survey – Restore Backup)
Multiple Poll Answers – Set Minimum and Required Number of Answers
Quick Plugin Update Process by Manual ZIP Updater through WordPress
Shortcode Manager to Include Shortcodes through WordPress WYSIWYG Editor
Clean, User-Friendly WordPress Admin Interface
Duplicate Poll
Conditional Option to Control the Next Questions depending on the Answers
Custom PDF Export Header without Editing the Export Template File

9. Lastform – Affordable Typeform alternative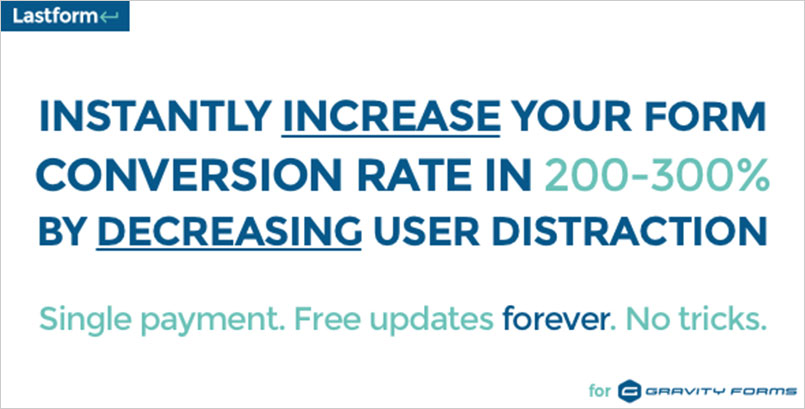 An add-on that brings unbelievable experience and conversion rates to the best WordPress form builder ever made
Just install Lastform now and see for yourself:
WEB FORMS THAT MAKE YOUR QUESTIONS STAND OUT WITH THE BEST USER EXPERIENCE AVAILABLE ON THE MARKET, KEEPING YOUR VISITORS ENGAGED WITH THIS ADDICTIVE USER EXPERIENCE.
MAKE YOUR BRAND REMARKABLE BY CUSTOMIZING COLORS, IMAGES AND FONTS SO EASILY THAT YOURS VISITORS WILL THINK YOU ARE A TOP-LEVEL DESIGNER.
DISPLAY AN ENTIRELY SEPARATE LAYOUT SO YOU CAN KEEP YOUR EXISTING GRAVITY FORMS WORKING NORMALLY, BUT WITH AN ALTERNATIVE LASTFORM LINK.
GRAVITYFORMS CAN BE ACTIVATED ONLY IN THE ADMIN AREA OF THE SITE, IMPROVING YOUR SITE PERFORMANCE DRAMATICALLY BY TURNING OFF GRAVITY FORMS ASSETS COMPLETELY FOR THE FRONTEND OF THE SITE, PREVENTING UNNECESSARY ASSETS FROM LOADING.
SAVE YOUR BUSINESS'S MONEY INSTEAD OF PAYING $70/MONTH OR $700/YEAR FOR A WHITE LABEL TYPEFORM SUBSCRIPTION.
TURN YOUR CURRENT BORING GRAVITYFORMS STYLING INTO SOMETHING REALLY SPECIAL!
100% WHITE LABEL. NO ONE NEEDS TO KNOW YOU ARE USING LASTFORM.
SUPPORT FACEBOOK PIXEL CODE, GOOGLE ANALYTICS OR ANY OTHER CODE SNIPPET YOU NEED TO PASTE IN.
USE CONDITIONAL LOGIC TO HIDE/SHOW CONTENT BASED ON VISITORS ANSWERS AND DIRECT YOUR VISITORS THROUGH DIFFERENT PATHS IN YOUR FORM.

---
If this article has helped you, it's also possible that a Click Here to bring you one more joy to this day!
---