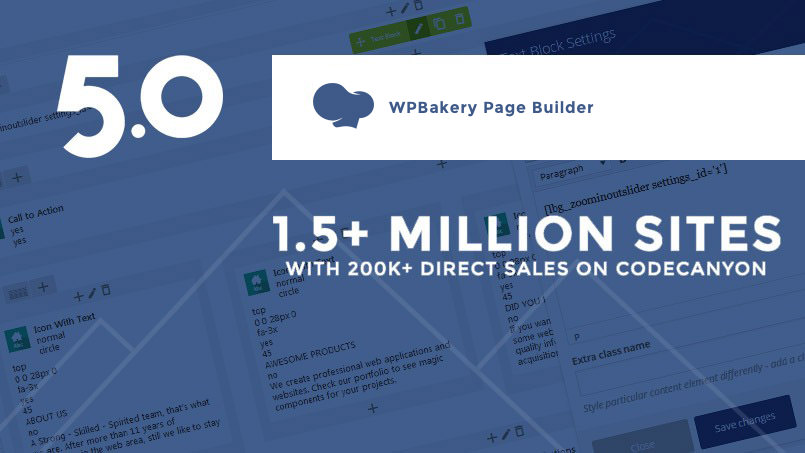 25 Jan

Top 5 WPBakery Page Builder Addons for 2017

Until we get to talk about WPBakery Page Builder Addons let's start with the pre-making of the web world: 2017 also started in force for WPBakery Page Builder for WordPress. This product remains the most wanted wordpress plugin on codecanyon.net. Version 5.0.1 is available for download!
You need only two things: the desire to have a professional WordPress website in no time and a slightly… artistic sense.
What makes it essential to web developers?
All those who install and use this magnificent WordPress plugin, they will emphasize the main advantages:
saves you time
it is responsive design ready,
no need to be a WP expert or to be a programmer,
even a designer need not be, as the plugin has unlimited design options.
You need only two things: the desire to have a professional WordPress website in no time and a slightly… artistic sense.
Is WPBakery Page Builder a robot that replaces an army of Web developers?
It is not like that. Let us not imagine that, since WPBakery Page Builder was launched, web developers and designers have started digging ditches in Siberia because they could not work somewhere else than there.
Over 200 thousand web developers and designers worldwide have become users of this plugin because it makes their lives easier. In this area precisely these two categories of professionals have the greatest need of such help. Because we know how much stress and time crunch is in a web agency.
I think WPBakery Page Builder means for the industry of web applications, what the assembly line of Henry Ford meant for the automotive industry.
The next logical step was the creation of WPBakery Page Builder Addons
So life becomes much easier. You can find many extensions matching your projects. Check the top 5 WPBakery Page Builder Addons of 2017, dedicated to the multipurpose WordPress websites:
01. VERA – Essential Multimedia WPBakery Page Builder Addons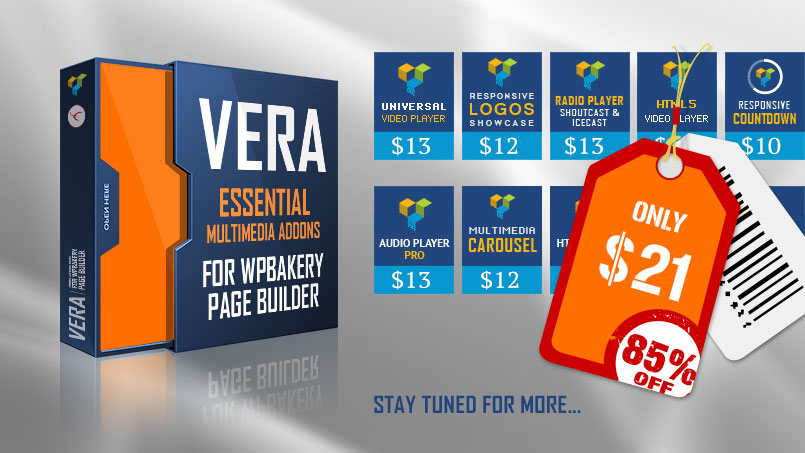 This Bundle of WPBakery Page Builder Addons brings together 9 multiple responsive plugins and counting…
Universal Video Player
Supports YouTube, Vimeo and Self-Hosted videos and is a top-notch responsive HTML5 plugin compatible with all major browsers and mobile devices.
Logos Showcase PRO
Contains 4 versions: Grid, Carousel (one by one), Carousel (Group) and Perspective. The last 3 versions have 2 skins: black & white. It allows you to easily display on your website: logos, clients, partners, sponsors, brands, portfolio items… you name it.
HTML5 Audio Player PRO
A responsive audio player, customizable from parameters. Any color scheme possible, so you can integrate this audio player in any design.
HTML5 Radio Player
Is all you need from a radio player: ShoutCast & IceCast support, categories, search, LastFM API support and more…
HTML5 Video Player
Comes in two versions: Right Side playlist and Bottom Playlist. It plays .MP4 and .WEBM video files.
Multimedia Carousel
Two versions available: Classic and Perspective. It can also be customized as video gallery or audio gallery. Please see the features and check the live preview to convince yourself of its quality.
Chameleon Audio Player
You can customize this html5 audio player by changing the color for: player background, volume slider, timer, buffer, seekbar, song title, playlist background, playlist font and playlist item line separator. You can use it with playlist (check Playlist version examples) or without playlist (check Minimal version examples). It supports .mp3 and .ogg audio files
Multimedia Playlist Slider
Can be used as an YouTube & Vimeo video player or as a multimedia slider. Has YouTube and Vimeo Support, Option To Automatically Obtain the Video Thumbnail, Title and Description From YouTube Servers, Playlist With 3 Versions etc.
CountDown Timer PRO
You can use it as CountDown for Events and Products launch or as expiry date for Offers and Discounts
Once you purchase this bundle, you regularly receive free updates. Constantly new addons will be included. You will be able to download the new ones as well, for free, directly from your account.

02. Massive Addons for WPBakery Page Builder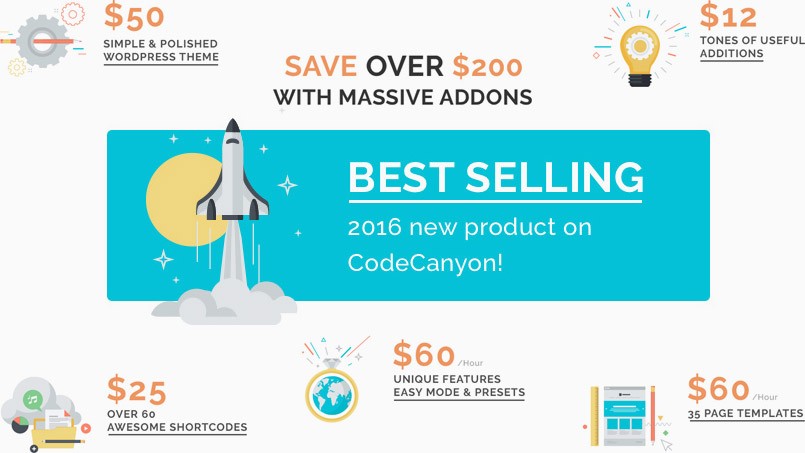 They say with Massive Addons you get the most advanced WPBakery Page Builder extension. Once you know its main features the web party begins!
Presets
Preset is a set of shortcode settings it defines each aspect of its look & behavior. Massive WPBakery Page Builder Addons comes with over 1700 presets, that you can edit or delete. Shure you can create your own presets.
Easy Mode
Each shortcode has tones of options. An Easy Mode had been created (you can easily turn it on & off for each shortcode) for those who wont need the full control. Only the key settings are visible for each shortcode the advanced stuff are hidden. It also works with presets.
Shortcodes
All the 63 shortcodes have been build from scratch for you to have full control of any aspect of them: border, backgrounds, colors, behavior, layout, effects etc. They are very flexible and offer you unlimited possibilities.
Page Templates
MPC team have created 35 awesome page templates in order to show you what you can do with Massive WPBakery Page Builder Addons bundle. All of the pages are build in 100% with Massive Addons, there are no additions.
Optimized for SEO & Performance
MA site is up to 2 times faster then their competition. It loads only the necessary font families and font weights, minified CSS and JS files.
More about Massive Addons for WPBakery Page Builder you can find here. Such a product must not get away.

03. Templatera – Template Manager for WPBakery Page Builder

New "Templatera" content element, which will appear after you install Templatera, will allow you to place pre-built templates as an independent blocks on your pages. If you modify some of your template, all pages that use "Templatera" block will also be populated with new content.
Awesome Features
"Templatera" content element – create template "piece", place it on multiple pages and when you will update that "piece" it will be updated across all pages where it was used! You will never go back after using this block
New post type 'vc_template' which allows you to add/edit/delete your templates with native and familiar WordPress UI
Automatic migration of existing WPBakery Page Builder templates – no extra setup required
Templates access control by user roles
Templates access controls by content types
Import/Export templates in XML format – take your custom templates with you
Single Template Export – export only those templates you wish
Want to have now Templatera – Template Manager for WPBakery Page Builder? Go get it!

04. WPBakery Page Builder Extensions Addon
Once you install this Add-on your WPBakery Page Builder will never be the same again.
Look what you'll get with it:
140+ New Premium Elements
Custom Post Types
Downtime Manager
Google Fonts Manager
Icon Fonts Manager
Template Manager
Premium Lightbox Solution

05. Easy Tables – Table Manager for WPBakery Page Builder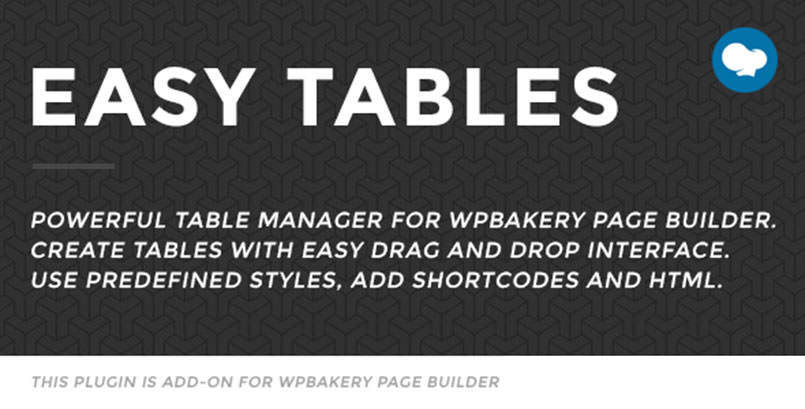 Table manager for WPBakery Page Builder allows you to create and manage tables with drag and drop interface, very familiar "Excel" like experience. Add, Remove rows or columns in bulk – saves your time. No more boring tables! No limitations had been set.
Great Features:
"Excel" like interface
Add/Remove rows and columns in bulk
WYSIWYG toolbar with essential controls (font size, bold, italic, underline, strike through, font color, cell background color, text alignment, cell borders)
Add HTML right into table cells
Bonus: 12 Table Visual themes for your tables